V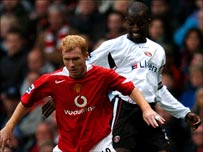 Big Question…………..have we seen the last of Ruud?
He was left out of team and left the ground…..
no not on horseback scouse ,shut up.
It was great to see Scholsey and Ole back in the team,
if only cos now we can finally show fletcher the door.
Goals: Saha 19, Ronaldo 23, Euell 35 og, Richardson 58.