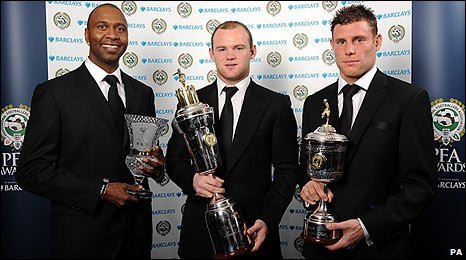 Wayne Rooney has been voted player of the year by the Professional Footballers' Association.
He beat off competition from Didier Drogba, Carlos Tevez and Cesc Fabregas.
The young player award went to Aston Villa's James Milner.
Former Leeds and South Africa defender Lucas Radebe,won the PFA Merit Award.
Premier League team of the year:
Joe Hart (Man City, Birmingham on loan),
Ivanovic (Chelsea), Vermaelen (Arsenal), Dunne (Aston Villa), Evra (Man Utd),
Fabregas (Arsenal), Milner (Aston Villa), Fletcher (Man Utd), Valencia (Man Utd),
Rooney (Man Utd), Drogba (Chelsea).