Nemanja Vidic scored in injury time to give United a victory against Sunderland.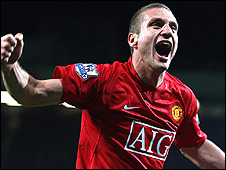 Sunderland played with damage limitation in mind
after a week in which they lost manager Roy Keane.
And for most of the game they kept 11 men behind the ball.
Their plan almost paid off but after denying united chance after chance
their luck finally ran out in the 91st minute Carrick's shot came back off the post
and Vidic was in the right place to send the home fans home happy.