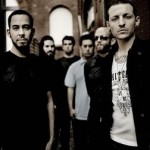 Linkin Park are a band from Los Angeles. The band consists of Joe (Mr. Hahn) Hahn, Mike Shinoda, Dave Farrell (a.k.a. Phoenix), Chester Bennington, Brad Delson and Rob Bourdon.
Released under the band name Hybrid Theory, the bands first album, Hybrid Theory EP was released in 1999. Only 1000 copies of this very rare original EP were made.
The bands first full studio album, Hybrid Theory, released in 2000, had a huge success, selling 24 million copies worldwide as of October 2006. Among its singles were PlayOne Step Closer, Crawling, and the bands highest-selling single, In the End. In 2001, the band released Frat party at the pancake festival. A dvd with live stuff, extra footage of the band and the music videos from Hybrid Theory. A remix album, Reanimation was released in 2002, and was based around Hybrid Theory songs.
The bands second studio album, Meteora (released 2003), was not so successful as Hybrid Theory. Still, it sold 10 million copies worldwide, spawned the worldwide hit Breaking the Habit, and was the first Linkin Park album that was not fully rap driven.
A limited edition live album and DVD came next: Live in Texas. It was an opportunity for fans who have not been to the bands gigs to see their performance live.
Linkin Park and Jay-Z then released Collision Course in which previously-released songs from the two artists were mixed together. Some time after this was a major label attempt to combat the success of illegal mashup albums popular in 2004 and 2005, most of which also used Jay-Zs Black Album a cappellas. The album introduced fans of both artists to each other and marked the beginning of Jay-Zs return from retirement.
The bands newest album is Minutes To Midnight, often abbreviated MTM. The album was co-produced by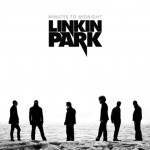 Mike Shinoda and legendary Grammy wining producer Rick Rubin (Slayer, Red Hot Chili Peppers, Johnny Cash) The release date, originally somewhere between July and September of 2006, was pushed to May of 2007. The band cites their reasoning as having fun experimenting with new styles and sounds in the studio, saying it was their most fun recording session to date. The new album was finally released on iTunes on May 11th 2007 and in stores worldwide three days later. The sounds are new, more hip-hop based beats and rock song dynamics. It is 12 tracks long, including the bands 6th consecutive #1 hit, What I've Done. The video for the song was directed by Joseph Hahn.
Four more singles from Minutes to Midnight were released:
Bleed It Out (released August 2007), PlayShadow of the Day (released October 2007), Given Up (released March 2008), and the final single, Leave Out All the Rest (released June 2008).
The band began touring again in late April in 2007 with a show in Berlin, and then continuing through Europe. 2007 also marks the return of the Projekt Revolution tour, which is always headlined by Linkin Park.
The band recently (29 June 2008) played their biggest Projekt Revolution show to date at the Milton Keynes Bowl, the venue Green Days 2005 live DVD was recorded at (a 60,000+ capacity venue). The PR UK lineup included Jay-Z who again performed some Collision Course tracks with Linkin Park. Other bands included Pendulum, N*E*R*D, Enter Shikari, The Bravery and Innerpartysystem.
The bands second live CD/DVD, Road To Revolution: Live At Milton Keynes, was released November 24th 2008. It included at least one song of each Linkin Park album including Collision Course with Jay-Z and featured excerpts from Fort Minors The Rising Tied in Points Of Authority.