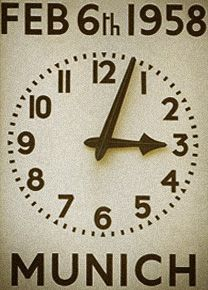 February 6, 1958 3:04pm,
British European Airways Flight 609 crashed on its third attempt
to takeoff from a slush-covered runway at the Munich-Riem airport in Munich, West Germany.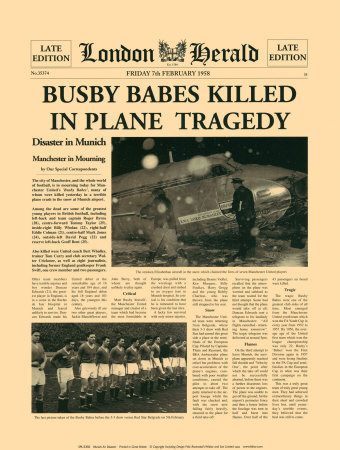 On board the plane were the Manchester United football team, nicknamed the Busby Babes,
along with a number of supporters and journalists.
Twenty-three of the 44 passengers on board the aircraft died in the disaster.
Those who sadly lost their lives:
Manchester United players
Geoff Bent
Roger Byrne
Eddie Colman
Duncan Edwards (He died 15 days later)
Mark Jones
David Pegg
Tommy Taylor
Liam 'Billy' Whelan
Also sadly lost their lives:
Walter Crickmer – Club secretary
Bert Whalley – Chief coach
Tom Curry – Trainer
Alf Clarke – Journalist, Manchester Evening Chronicle
Don Davies – Journalist, Manchester Guardian
George Follows – Journalist, Daily Herald
Tom Jackson – Journalist, Manchester Evening News
Archie Ledbrooke – Journalist, Daily Mirror
Henry Rose – Journalist, Daily Express
Eric Thompson – Journalist, Daily Mail
Frank Swift – Journalist, News of the World (also former England and Manchester City goalkeeper)
Captain Kenneth "Ken" Rayment – co-pilot
Bela Miklos – Travel agent
Willie Satinoff – Supporter
Tom Cable – Steward
Survivors
Manchester United players
Johnny Berry
Jackie Blanchflower
Dennis Viollet
Ray Wood
Bobby Charlton
Bill Foulkes
Harry Gregg
Kenny Morgans
Albert Scanlon
Matt Busby – Team manager
Frank Taylor – Journalist
James Thain – Captain
George (Bill) Rodgers – Radio officer
Peter Howard – Photographer
Ted Ellyard – Photographer
Vera Lukić and baby daughter Venona – Passengers (saved by Manchester United player Harry Gregg)
Mrs Miklos – Wife of Bela Miklos, the travel agent that arranged trip and died in the crash
N TomaÅ¡ević – Passenger
Rosemary Cheverton – Stewardess
Margaret Bellis – Stewardess