World Cup 2010.
What do you think the powers that be at Fifa are discussing?
When to replace the rubbish ball they have been paid to use?
When to put the jar back on the honey pot to stop all those wasps turning up at matches?
How stadiums have thousands of empty seats when they assured us WC2010 was a sell out?
What about the stewards' strike?
or the reported transport gridlock which has hampered some of the early matches?
None of the above, Blatter and his cronies are upset over 36 blonde girls
dressed in orange mini-dresses who, according to Fifa, broke strict ambush-marketing rules
at the game between the Netherlands and Denmark at Soccer City on Monday.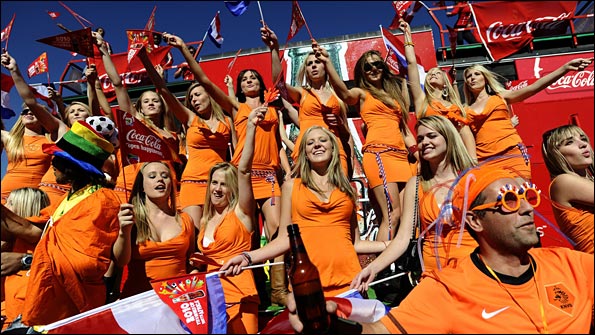 And gave BAVARIA more advertising worldwide than they ever could have imagined!