Don't let the door hit your arse on the way out!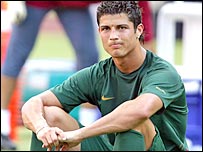 According to the BBC……….
Manchester United winger Cristiano Ronaldo says he will join Real Madrid
or Barcelona after making it clear he wants to leave Old Trafford.
The 21-year-old has been criticised in England for his role in the sending off
of United team-mate Wayne Rooney when Portugal beat England in the World Cup.
"I should get out of Manchester as the circumstances are not right," he said.
"Nobody stood up for me and my desire is to play in Spain.
Will it be Real or Barcelona? It will be one of them."
Ronaldo – Joga Bonito (the beautiful game) my arse!!!
good riddance you cheat.