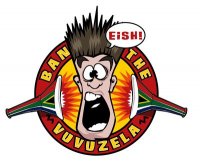 A growing number of Premier League clubs are following Tottenham's lead
and banning vuvuzelas from their grounds on match days this season.
Birmingham City, Everton, Fulham, Liverpool, West Ham United and Sunderland
said they have also banned the horns.
Eight clubs – Blackburn Rovers, Bolton Wanderers, Manchester United, Newcastle United, Stoke City,
West Bromwich Albion, Wolverhampton Wanderers, Wigan Athletic and Aston Villa – were undecided.
But Blackpool, Chelsea and Manchester City –
while not wanting to encourage fans to use vuvuzelas at their grounds –
said they have no plans to ban them.
Some Football League clubs have also banned the horns,
following their widespread use during the World Cup in South Africa.
Some retailers across Britain have being selling vuvuzelas in anticipation of their popularity.
However, the horns have been heavily criticised by players and fans alike
with many suggesting they are tuneless and block out singing and chanting.