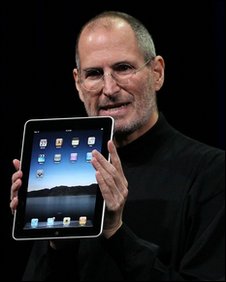 Apple has  unveiled its long-awaited tablet PC,
which it has called the iPad.
Apple describe the tablet as a "third category" between smartphones and laptops
The device, which looks like a large iPhone, can be used to watch films,play games and browse the web.
The device has a 9.7-inch multi-touch display, allowing people to type directly on to the screen, as well as manipulate pictures and control the action in games with their fingers.
Apple claim it has a battery life of 10 hours.
the tablet will cost between $499 and $829